A Volunteer Trip With Help Refugees: An Interview With Team VERVE Member Erin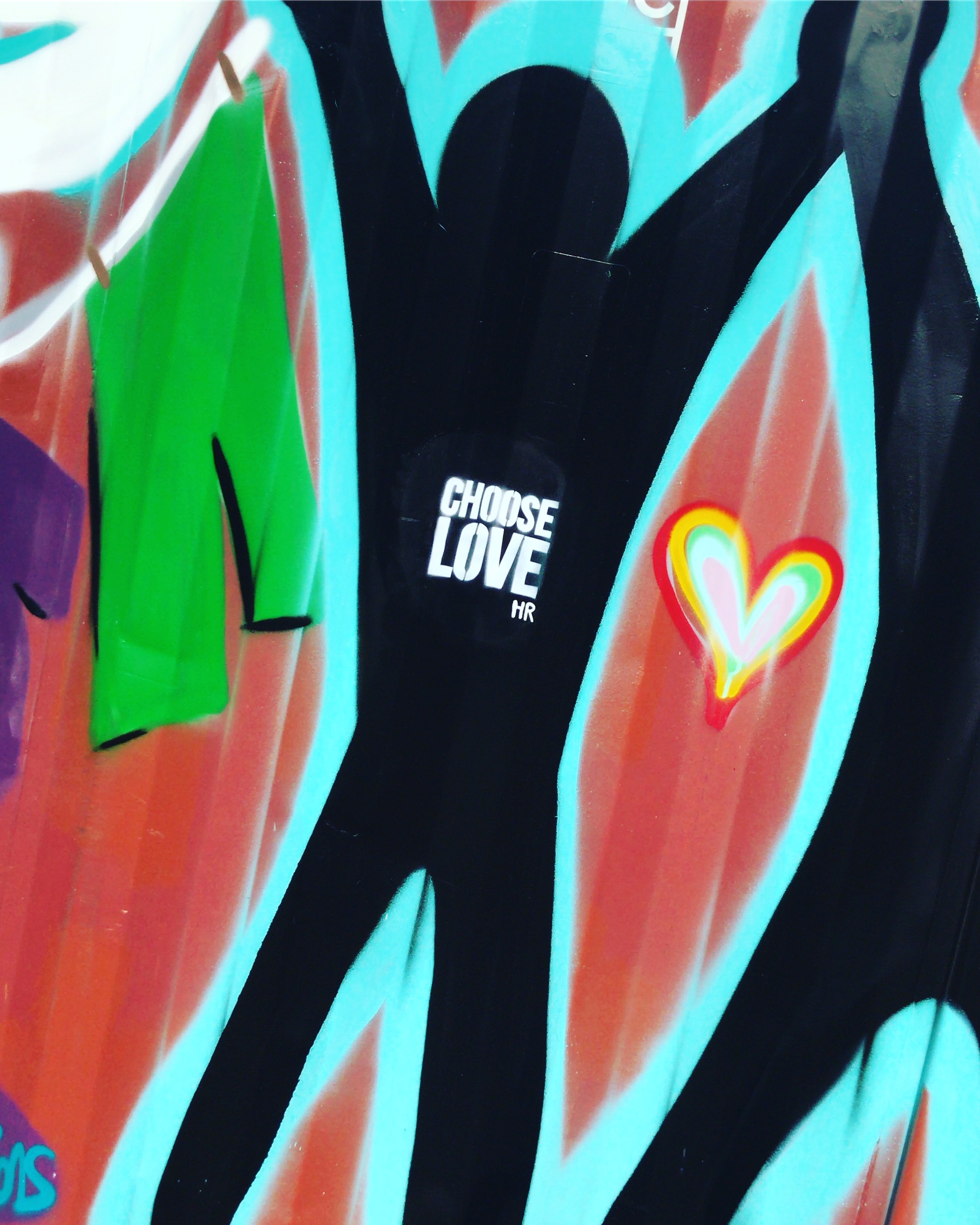 Helena: How long were you in Calais for?
Erin: I was volunteering for 3 days, between 17th to the 20th May, 2018
H: Where did you stay?
E: We stayed in Calais, where the warehouses are based for about 5 or 6 different charities who do various different projects and work with refugees, but there are 4 different camps around Calais; there are 2 in Dunkirk and 2 in Calais.
H: Did you stay in a hotel?
E: Yeah. We stayed about 40 minutes walking/ bus-ride from the warehouse. It was really easy, there are several different accommodations you can stay in if you're volunteering for longer than a week. So there are some long-time volunteers who will offer you a bed or a spot in their caravan. There's a camping place next door, and some airbnb's as well, but we just stayed in a really simple hotel.
H: What kind of stuff did you get up to when you were there?
E: Initially we signed up through Help Refugees, who are like the hub of the whole operation; they manage this giant warehouse that was built in 2008 by L'auberge de migrants where it houses all these different charities, and the charities do different things there. Unless you have a preference on what you want to do, whether it be going to the field immediately with the refugees, or sort the items that are donated to the giant warehouse. What we did for most of the time was work for the Refugee Kitchen- they have 2 bases, 1 in Camden, London and the one in Calais- and they have this giant restaurant quality kitchen that pumps out around 1,200 meals a day. So we did anything from scrubbing carrots, to chopping garlic, to washing dishes. You put whatever effort you want into it, and you have this high from helping out that you just want to do whatever you can whilst you're there.
So, most of our time was in the kitchen, but they also ask if you want to do distribution, which is also on a volunteer basis, not everyone has to or want to. Basically distribution means you're going out into the field and serving meals to refugees. We did that on our 3rd (final) day. So, you go out with a team of half-experienced / long term volunteers, and the other half are the new volunteers. There were 7 of us, and there were 2 different camps in Dunkirk that we served food to. The first camp was in a nature reserve, and had about 200 male refugees who were all Kurdish, from Iraq and Afghanistan. So we served them curry with rice and salad, and for those celebrating Ramadan we served them dates to break their fast. Everyone was really nice and there was nothing intimidating about it. We all exchanged smiles and thank you's and there was a handful of men who were more engaging because they'd obviously gotten to know the long-term volunteers who were with us. There were also 2 other charities there, 1 of which has a car with a generator and they go around and charge phones for the refugees and hand out SIM-cards to those who don't have them, which is so crucial because that's one of the only ways they can stay in touch with their families and stay safe.
H: Are most of them broken away from their families then?
E: Yeah. In that first camp for sure. Whether or not they have a family, I don't know. But they were all men, probably in their 20s, 30s maybe 40s. What happens is the men usually go off first to leave their country. Try to make it to their end destination safely and then they try to get their family there, who will travel with a brother or an uncle. The second camp was also in Dunkirk, and that was at a state-facilitated gymnasium; everyone who was in the gym had to have a wristband assigned to them by the French government. There were more families there with children who were running around and playing, smiling positively, despite their situation. There was 1 guy who asked where I was from and when I said America it caught a few people's attention. He asked where in America I'm from and when I said Arizona, he said his brother lives in Utah which is 2 states away from there, and he said his brother has been living there with his family for 25 years. I asked if he still talks to him, he said almost every day. It's such a hard thing to hear- here he is, not knowing where he's going to end up. After he said that… my heart hurt. I was happy on the one hand that his family are in America and safe and sound, but he's there waiting for an opportunity to live a better life. He gave all of us a big hug when we left. And actually another refugee asked if he could serve the curry that I was serving- it was such a humbling experience.
H: So the atmosphere was quite a happy one then?
E: Yeah. Tragically, though, a day before we got there, there were around 30 refugees in a couple of vans who were making their way to Brussels and the police chased them and shots were exchanged and a 2 year old child was killed, and that family was actually from the gymnasium, so we were warned the atmosphere would be sombre beforehand, but they were all very grateful and they were just making the best of it.
H: What kind of activities did they do during the day?
E: I'm not sure, when it's not raining there's a volunteer group with a bus who go around and find places to play football or play connect 4 or other activities like that. I think that their location where they stay is often moved around so much because the French Government have security guards who find the camps and go and slash their tents and try to ruin everything with the hopes of forcing the refugees to move.
H: Why do they do that?
E: Because they don't want people there. On one hand the government have this mentality where if they make it a non-hospitable place then they won't come back, but of course they're going to come back - where else do they have to go?
H: How did you feel when you first arrived there?
E: I guess I felt curious. I feel guilty saying I was excited because I don't want to take away the tragedy that is the refugee crisis, but I was excited in a sense that I knew my help was needed, I've wanted to do it for so long. Once I was there the energy in the Refugee Kitchen was awesome- they have music blasting from hip-hop to the Rolling Stones to reggae and everyone's just jamming out and making it happen. There's just constant movement happening, it's a full on production!
H: How do they fund all their food?
E: It's all donation based. I'm not sure they take food donations, so they usually ask for money donations. Our friend who had been there a year and a half beforehand said that the kitchen had progressed so much since then, so you know your money is going to the right places. So the vibe in the kitchen was so energetic and super positive. The long-term volunteers really are the backbone, but then they say that the short-time volunteers, like us, really refresh everything with constant movement and new faces - like a reminder that people still care.
H: How did you feel when you left?
E: I was grateful for the experience, angry, guilty that I was going home to a cooked meal and a clean bed and I'm angry that people aren't doing enough about it. People need to experience this though, so they can relate to refugees as people who are just like us. They get categorised as 'other' just because people haven't had this face to face interaction.
H: What was your favourite part of your time there?
E: Definitely the distribution part. We were in this van packed in like sardines and they're blasting out this music and driving down the highway and the feeling of knowing you're on your way to help people was just amazing being a part of a team like that.
H: Would you recommend others to go and volunteer then?
E: YES. Everyone can do something. It's so easy as well. If you can afford it and you're in London, it's a train straight from St.Pancras to Calais lasting about an hour. Then you just get on another local train for 10 minutes to the centre of Calais, and then you just jump on a bus 20 minutes down the road right outside the warehouse.
H: So all in all, it's about 2 hours to get from A to B?
E: Exactly. Easy. All public transport too.
H: How much did it cost roughly?
E: It took no more than 10 minutes to sign up, it's so easy. All you have to bring is comfortable clothes and shoes. We purchased our train ticket later than we should have, so it was more expensive and around £120, but if you've got any kind of railcard like 16-25 then you get ⅓ off the total price. Then our hotel room which was very clean, basic, cosy and comfortable was €22 a night each for my friend and I. But there are so many available accomodations around for volunteers. If you're there for more than a couple of weeks then they help pay for accomodation somewhere cheap and provide lunch for all volunteers as well. It's the most delicious food too!
H: Can you volunteer from London?
E: Yes! Refugee Community Kitchen have a home base in Camden and they do distributions to homeless refugees weekly in various places in London and they're always looking for volunteers and donations. We're hoping VERVE can do a collaboration with them or at least do monthly drop-ins where we go and volunteer ourselves or raise money through the VERVE community. It's super easy to sign up for yourself online, though. If you wanted to just volunteer yourself for a couple of hours on a Sunday or something.
***** As of the 26th May 2018, 6 days after Erin and Karine left the Refugee camp, all refugees in the two camps in Dunkirk were evicted. For full details, please read through the @helprefugeesuk IG posts below.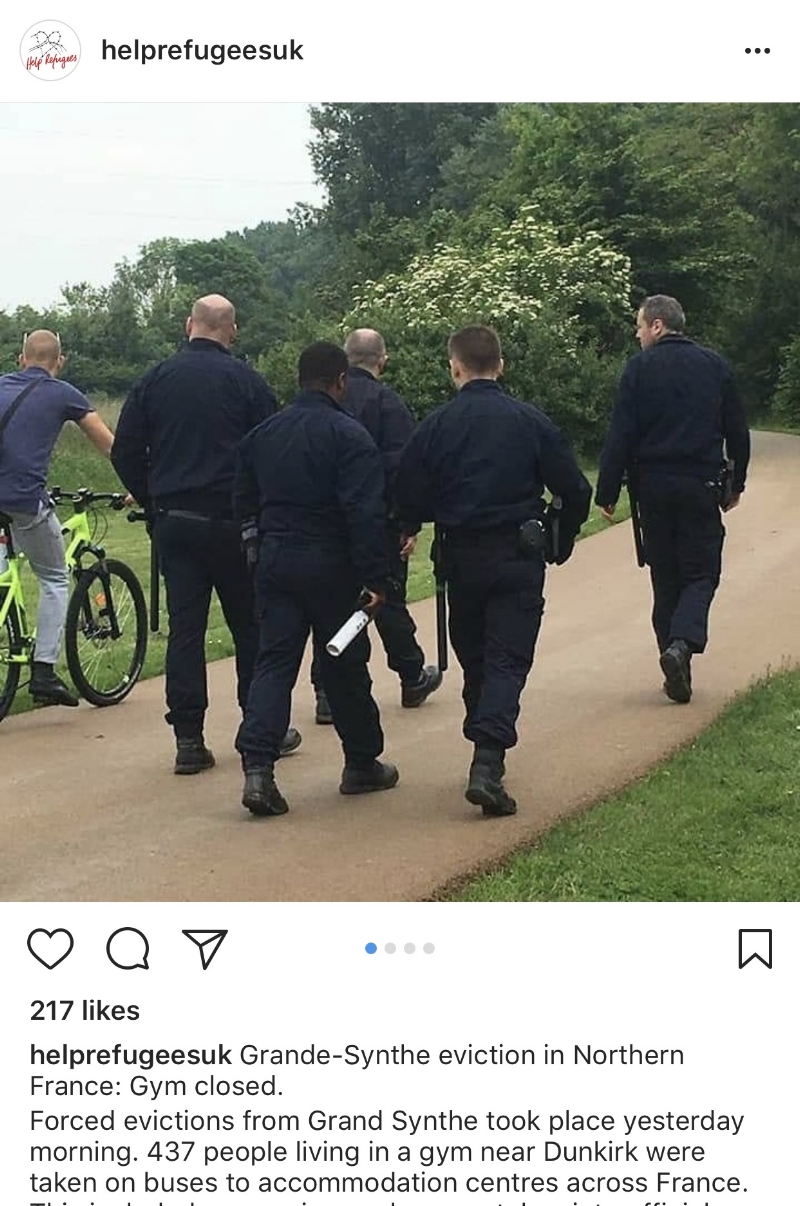 Interviewed by VERVE Operative: Helena Burton-Jones
Erin is the Chief Feminist Manager of VERVE (CFM).
To get in touch with VERVE and get involved with our quarterly volunteer trips and/or monthly Refugee Community Kitchen Drop-ins email: contact@verveup.com
Links to mentioned charities:
Please tell them that VERVE sent you :)