#ShesGotVERVE - Why We Love President Ellen Johnson Sirleaf
Ellen Johnson Sirleaf facts:
On January 16, 2006 Sirleaf was sworn in as the twenty-fourth president of Liberia, which made her the world's first elected black female president and Africa's first elected female head of state. She is still president today.
During her 30 year struggle to reform the Liberian government Sirleaf's been charged with treason, imprisoned, barely escaped execution and exiled.
Born October 29th, 1938 Sirleaf is incredibly well educated for a woman of her generation and background. She received her bachelor's degree in accounting from Madison Business College in Wisconsin, an economics degree from the University of Colorado at Boulder and her Master of Public Administration from Harvard University.
As a senator during the violent military coup in 1980 Sirleaf had to flee Liberia for her life and was forced into exile for 5 years.
Sirleaf returned in 1985 to run for a seat in the Liberian senate where she vigorously spoke out against the corruption and abuses of the existing military regime. She was sentenced to 10 years in prison. Sirleaf served 8 months of her sentence before she was released and exiled once again.
As president of Liberia Sirleaf made all forms of rape a criminal offence – remarkably, for the first time in Liberia.
Soon thereafter Sirleaf issued an Executive Order making education free and compulsory for all elementary school aged children.
In 2011 Sirleaf was the shared recipient of the Nobel Peace Prize with Leymah Gbowee and Tawakkol Karman. They were awarded the honour "for their nonviolent struggle for the safety of women and for women's rights to full participation in peacebuilding work."
On September 12, 2013 Sirleaf was awarded the Indira Gandhi Prize by President of India Pranab Mukherjee.
As of 2016, she is listed as the 83rd-most powerful woman in the world by Forbes magazine.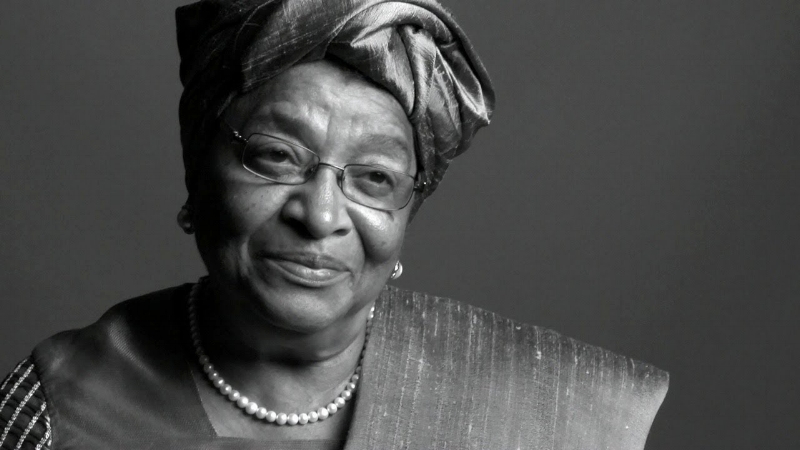 "If your dreams don't scare you, they are not big enough"