Women's March: Women's Convention - Day 1
Detroit Michigan, Day 1
The alarm went off at 3:45am. The part of myself that operates independently of conscious decision making reminded me that I could not hit snooze today. By 4:40 I was through security and headed for my flight to Detroit. For those of us who are full time activists, even incredible opportunities like the Women's Convention can feel like a chore. I put on my VERVE cap and backpack, filled my VERVE water bottle, and stuffed my pockets with my classy new business cards. Sitting in the COBO Center, the caffeine from my third cup of coffee started wake me up and I began chatting with the women sitting around me. I still had not warmed up to this weekend although I had to admit that I was feeling comfortable in this setting, surrounded by women who were interested in making the world a better place.
The opening of the Convention was a prayer and song from a group of Indigenous women representing several nations. As they asked us to stand and recognize that we are gathering on stolen land, a wave of emotion knocked the wind out of me. Three thousand women and allies standing and singing with a fist raised to acknowledge the lives of Indigenous women that have been lost was more powerful than I could have predicted. And that was all it took. I was committed to this weekend. My exhaustion and annoyance with the logistics of my morning disappeared as let the fierce energy in the hall inspire me.
The following speakers were inspiring. Tamika Mallory, one of the Women's March on Washington organizers, got me jazzed in a way for which I was completely unprepared. I had read her tweets and quotes in articles but I had never heard her speak. She was so genuine and impassioned. I loved her honesty as she called out feminism, shouting at us all that if our feminism didn't include POC, gun violence, religious freedom, economic justice then our feminism doesn't represent her. I'm paraphrasing and doing a rubbish job. She was brilliant and I my heart was going a million miles a minute as I hooped and hollered with more than 2000 other women.
Tarana Burke, an activist from Harlem who started the Me Too campaign ten years ago spoke. She was the kind of woman that made you feel like "oh, yeah, I'm with you." In a strong but kind voice she reminded us that we are not victims and we are not alone. We are an army of survivors and we must continue to fight against sexual assault, sexual harassment, and rape culture long after #MeToo stops trending.
Linda Sarsour, another organizer of the Women's March on Washington, received an incredible amount of support from the other women who spoke before she took the stage. She has endured a significant amount of abuse as a Muslim woman who speaks the truth. Like Tamika, I had never heard her speak and I was struck by the difference between the larger-than-life image I had of her through the media and the realness that she presented to us. I couldn't do her words justice but she ended by reminding us that "unity is not uniformity." We do not all need to agree on all issues to work together. This is an issue I have often struggled with because my ideologies are so much more radical than almost everyone else in my life. I also firmly believe that talking with those who hold different views is essential for progress.
I basically spent the entire opening ceremony choking back tears. All my fears that this was going to be an exercise in vanity disappeared. It was clear that the energy of this weekend was going to be focused on developing skills to affect change and strategies for "on the ground" work in our communities. So I went into my first session full of energy.
Session 1: Hyperlocal Activism: How to Create Successful Neighborhood Groups
This was a panel of women and high school students who had organized in their local community here in Michigan. They talked about how they reached out to each other through the internet and the vulnerability of trying to connect with strangers. Luckily they did because they have been able to organize a march in their own community and meet with their congress person. One of the most useful parts of this workshop was hearing about different applications and programs that activist use to organize. Watch for a future blog on that.
Session 2: Divest from the War Economy
I had planned to attend the session on "Confronting White Womanhood" but it was booked up. I will consider that a good sign. Instead I went to a workshop on divesting from the war economy so we can invest in local peace economies. It was hosted by CODE PINK—Women for Peace which is a women-led grassroots organization working to end U.S. wars and militarism, support peace and human rights initiatives, and redirect our tax dollars into healthcare, education, green jobs and other life-affirming programs. There were three extremely well-informed women on the panel included a woman who had served in the military for decades before resigning in protest after the invasion of Iraq in 2003. I'm looking forward to doing more work with them.
Session 3: Planned Parenthood Action Fund Grassroots Organizing 101: Power, Privilege, and Winning with Soul!
I couldn't attend a Women's Convention without connecting with Planned Parenthood. This workshop started with a discussion of power, privileges, prejudices. They discuss the difference between oppressive power (45) and collective power (women). My favorite point from this presentation was that we all have some aspect of ourselves that is privileged. And the system that we are living in makes it impossible for us not to harm others through that privilege. For example, because I am cis-gender, there is no way that I could completely avoid harming people of trans experience at some point, no matter how unintentional. Knowing that, we need to be sure that we are open to getting feedback when it happens and not become defensive.
There were evening events but by this point I was so fried from getting up at the dawn of nothing and engaging in such an intense way all day that I had to call it a day. I'm looking forward to the workshops tomorrow and to hearing Maxine Waters speak. It felt good to be Reclaiming Our Time.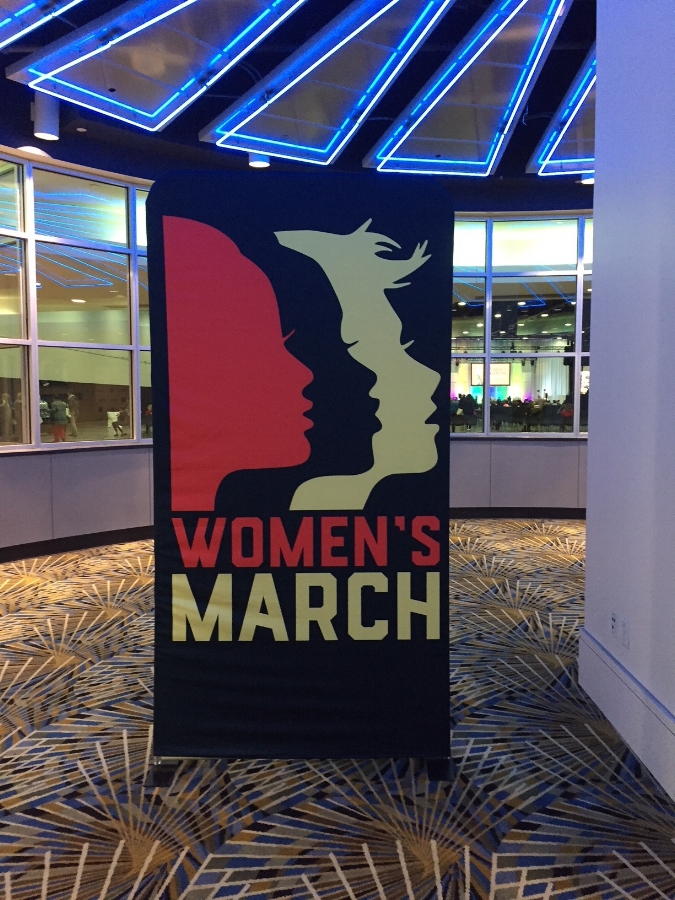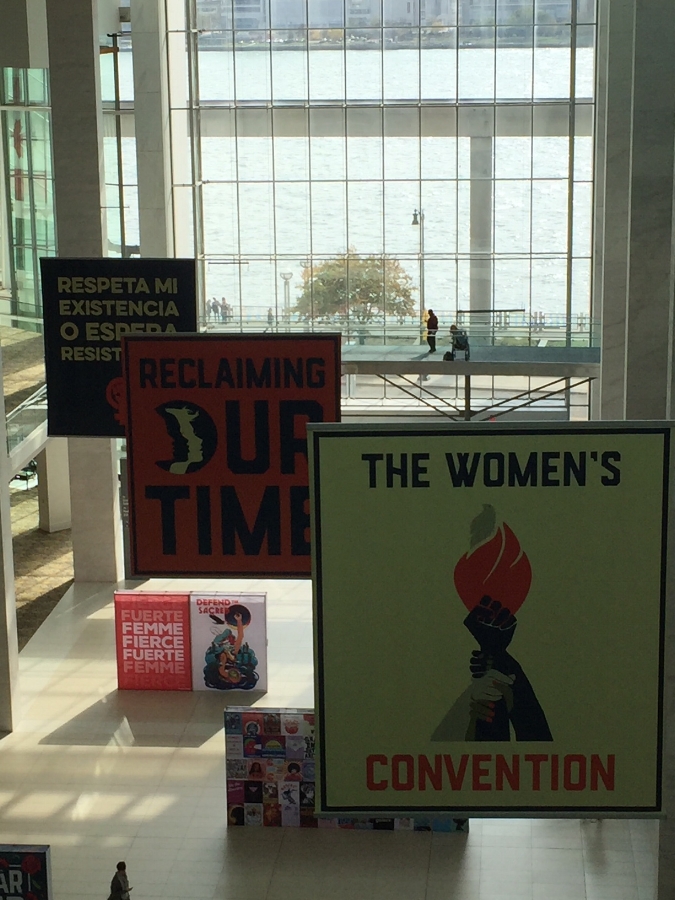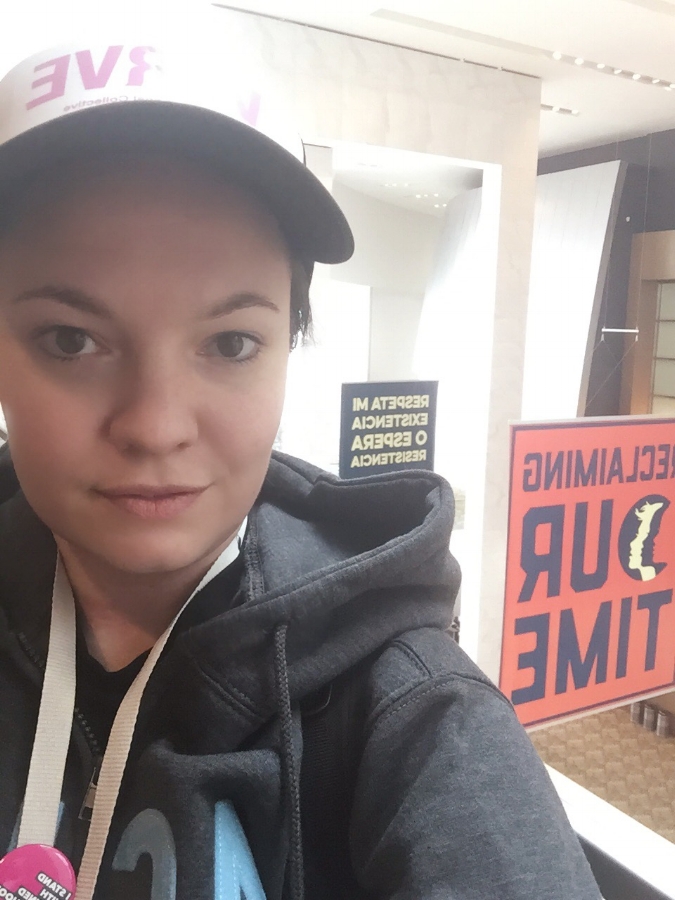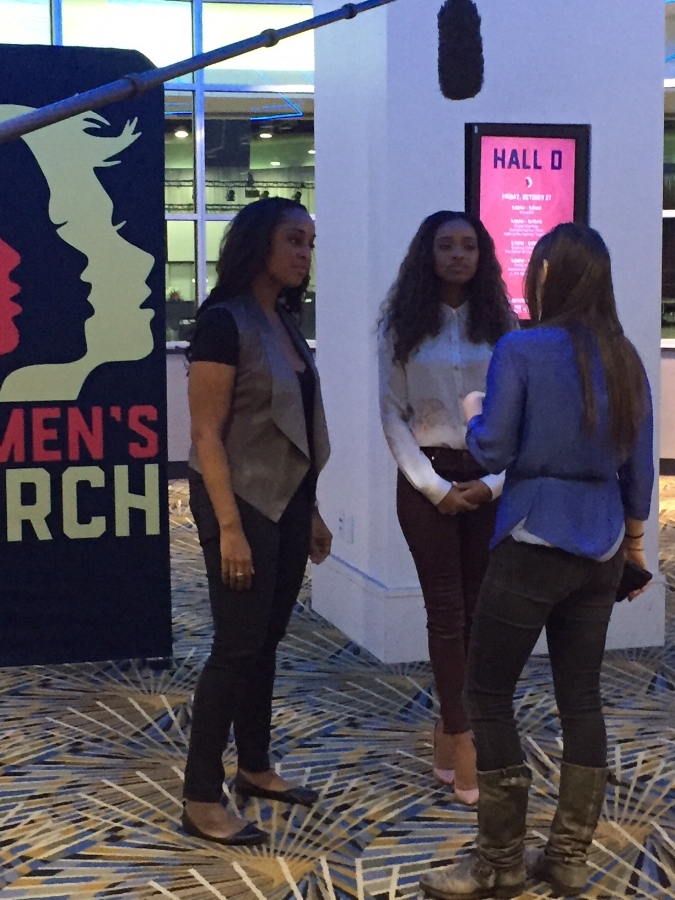 Article by Claire Ryder
VERVE Operative USA & Humanitarian Activist